A bright future for accelerator science at ANSTO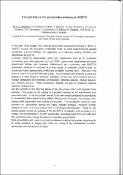 Publisher
Australian Institute of Nuclear Science and Engineering (AINSE)
Abstract
In the May 2009 budget, the Federal Government announced funding of $25m to ANSTO through the Education Investment Fund, to build state-of-the-art applied accelerator science facilities, by upgrading and replacing existing facilities and laboratories at ANSTO. Currently, ANSTO's researchers, jointly with researchers from all 37 Australian universities, plus other agencies such as CSIRO, government departments and local government bodies, and overseas collaborators and customers, use ANSTO's accelerator facilities for analysis of a wide range of materials, predominantly by Accelerator Mass Spectrometry (AMS) and Ion Beam Analysis (IBA). There are >100 external users of those facilities every year. © 2009 AINSE
Description
This paper is only available in print format. The Conference Proceedings are held by ANSTO Library, DDC number 543.1/11.
Keywords
Accelerator experimental facilities
,
ANTARES Tandem Accelerator
,
Mass spectroscopy
,
Ion beams
,
Ion sources
,
Laboratories
,
Sample preparation
,
ANSTO
Citation
Hotchkis, M. A. C., Child, D. P., Cohen, D., Dodson, J., Fink, D., Garton, D., Hua, Q., Ionescu, M., Jacobsen, G. E., Levchenko, V., Mifsud, C., Siegele, R., Smith, A. M., Williams, A. & Winkler, S (2009). A bright future for accelerator science at ANSTO. Paper presented at the 16th Conference on Nuclear & Complementary Techniques of Analysis, AINSE, Lucas Heights, 25-27 November 2009.
Collections