Influence of water on the structure of anion deficient perovskites AA*(BB*) O 5.5 (A& A*= Sr 2+ or Ba 2+, B*= Sr2+, B= Nb 5+ or Ta 5+)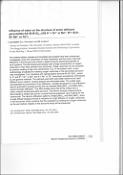 Authors
Publisher
Australian Institute of Nuclear Science and Engineering
Abstract
The ordered defect niobates and tantalates perovskites have been extensively investigated, since the mechanism of water interaction and the proton chemical diffusions in the structure are critical in determining the electrical properties of such systems. The title double perovskites have a large concentration of oxygen vacancies in their face centred cubic structures. These vacancies can be occupied by protons creating a high ionic conductivity. In the present work, a new methodology processes for creating oxygen vacancies in the perovskites structure was investigated. Four members with representative formula AA*(B* B)O5.5 where A, A* and B* = Sr2+ or Ba2+and B = Nb5+ or Ta5+ have been successfully synthesised by two general methods. The methods were both solid state reactions but used different slurry medium, namely acetone and deionised water. The oxides were characterised by synchrotron X-ray diffraction, variable temperature X-ray diffraction, thermo gravimetric analysis and for the two samples BaSr2Nb05.5 and BaSr2Ta05.5 neutron powder diffraction. The XRD studies show that all the oxides form a cation ordered double perovskite structure. The thermo analysis measurements demonstrate a weight loss and an unusual thermal expansion upon heating for the compounds. The neutron diffraction patterns of BaSr2Nb05.5 and BaSr2NbO5.5 show a large diffuse background that is indicative of a high diffusion of oxygen vacancies in the structures, which confirms that the possibility of creating the oxygen vacancies by the wet method. Details of this structural study will be presented.
Description
Hard copy held in ANSTO Library at DDC 539.758/9
Keywords
Anions
,
X-ray diffraction
,
Water
,
Proton conductivity
,
Diffusion
,
Electrical properties
,
Perovskites
Citation
Awin, L. A.; Kennedy, B. J.; Avdeev, M. (2012). Influence of water on the structure of anion deficient perovskites AA*(BB*) O 5.5 (A& A*= Sr 2+ or Ba 2+, B*= Sr2+, B= Nb 5+ or Ta 5+). Paper presented at 10th AINSE-ANBUG Neutron Scattering Symposium (AANSS) Sydney, NSW, Australia, 7-9 November.
Collections